One is quality. This is the basic quality of outdoor leisure tables and chairs.
Outdoor lounge tables and chairs
are very flexible. If such outdoor leisure tables and chairs cannot be well organized or are even rubbish, they will become fragile in use and have a negative impact on consumers' leisure experience. A sloping structure for outdoor leisure tables and chairs is required to avoid injury to users.
Second, security must be high. The prerequisite for the safety of outdoor leisure tables and chairs is not only to have a good feel but also to have a sturdy structure.
Third, the appearance is well protected. This reflects the practicality of outdoor lounge tables and chairs. The maintenance of outdoor leisure tables and chairs is also very important. For example, aluminum tables and chairs or iron tables and chairs often use rattan technology, which not only has a beautiful and beautiful design but also maintains the appearance of the table and chair material. As you know, iron tends to rust when exposed to air. Therefore, if PVC rattan is used as a protective layer and applied to the surface of the iron chair, the paint layer on the surface of the iron chair will be less likely to be damaged.
4-piece round rattan hollow patio chairs, outdoor patio table and chairs set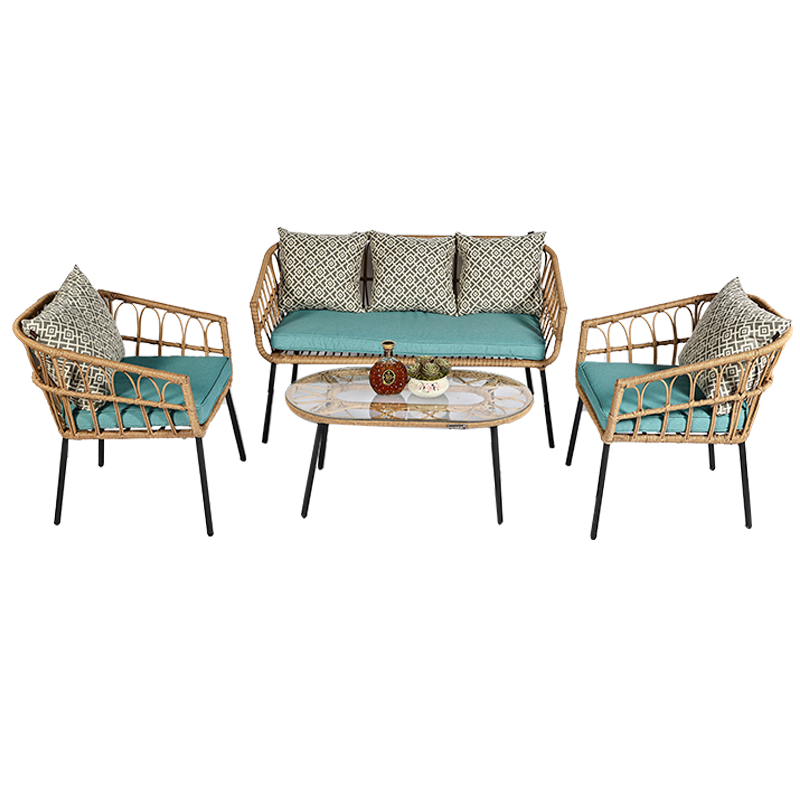 Outdoor tables and chairs sets are ideal for a variety of situations, including casual meals with friends and family. Choose a table and chairs set with a tabletop height that is appropriate for your outdoor space. You can also choose a bar-height set that elevates the table and chairs above a traditional dining table. A bar-height set allows guests to stand up at the table and has a more casual feel.
If you want to be trendy and stylish, you can opt for a contemporary outdoor dining set. This will surely enhance your kitchen and dining experience outside. This trendsetting outdoor table and chairs set can be used at home and is the perfect addition to any patio. If you love a desert look, you can also purchase matching melamine serveware for your outdoor dining set. You can even match your dining set with a matching table.