Today, many are building in courtyards or leisure communities, and a range of
outdoor furniture
is reflected in the eyes of consumers. Unique products and rich functions make the current rattan furniture related products have good market acceptance. New trends in furniture have also led to the acceptance of rattan furniture in the market. This is also an outdoor environment rattan furniture product. Use to bring more benefits.
1. Integrate into the natural ecological environment of society and create a pleasant space
The unique texture of natural materials can enhance the natural environment of the decorative level, and professional rattan furniture manufacturers all use natural rattan materials to reflect the natural taste, and artificial rattan materials to satisfy the sense of retro and realism as much as possible, while rattan uses You can experience a fresh feeling in an outdoor environment. At the same time, its natural and elegant effect is also suitable for various outdoor applications to create a more fresh and pleasant space.
2. Corrosion resistance and other properties can ensure the service life of the enterprise
The rich pore size can quickly drain and moisten after rain. At the same time, it has a good air permeability and requires more fine design. It also makes the current rattan outdoor furniture company products can be used conditionally, which can not only improve the resistance to sunlight. , but also to obtain rainy conditions due to corrosion resistance and porosity.
4PCS Lift-UP TABLE SET Rise and Fall Table Stools Set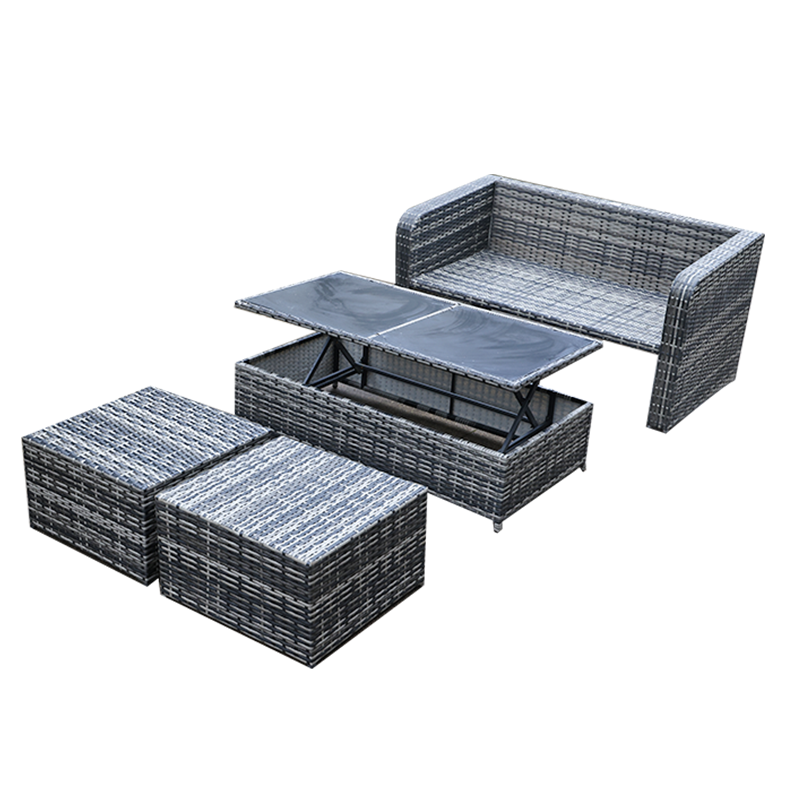 When purchasing an outdoor garden sofa set, remember that you need to consider the use of the furniture. If you're planning to entertain guests, you'll need a dining set and a sofa set. Then, if you have a small garden, a folding garden sofa set will make the furniture easier to store. The ultimate comfort and a decent look is what you'll find with an outdoor garden sofa set.