In the early summer of May, the hot summer is hot and cold, and every household has started to turn on the air conditioner, which reminds me of the summer I miss the most. Eating watermelon with a fan. The summer on the
rattan chair
is what my hometown looks like in my memory. If you and I have the same memories, maybe you would like to put a few pieces of rattan furniture or rattan chairs at home?
How to match rattan furniture? The rattan furniture itself exudes a natural atmosphere, a little soft and casual, and at the same time the texture is pure. At first glance, it is furniture with a "story". In addition, the various colors of the rattan art itself can be selected at will to create a comfortable and warm home atmosphere. .
If we all need to slow down and enjoy the little things in life, this rattan hanging chair can make you feel like a kid again in seconds, instantly returning to your childhood. Rattan hanging chair is a kind of multifunctional furniture that can "glow and heat" in many places in the home, from the living room to the balcony to the reading corner of the study, you can move it at any time according to the season or how you feel.
4-piece round rattan hollow patio chairs, outdoor patio table and chairs set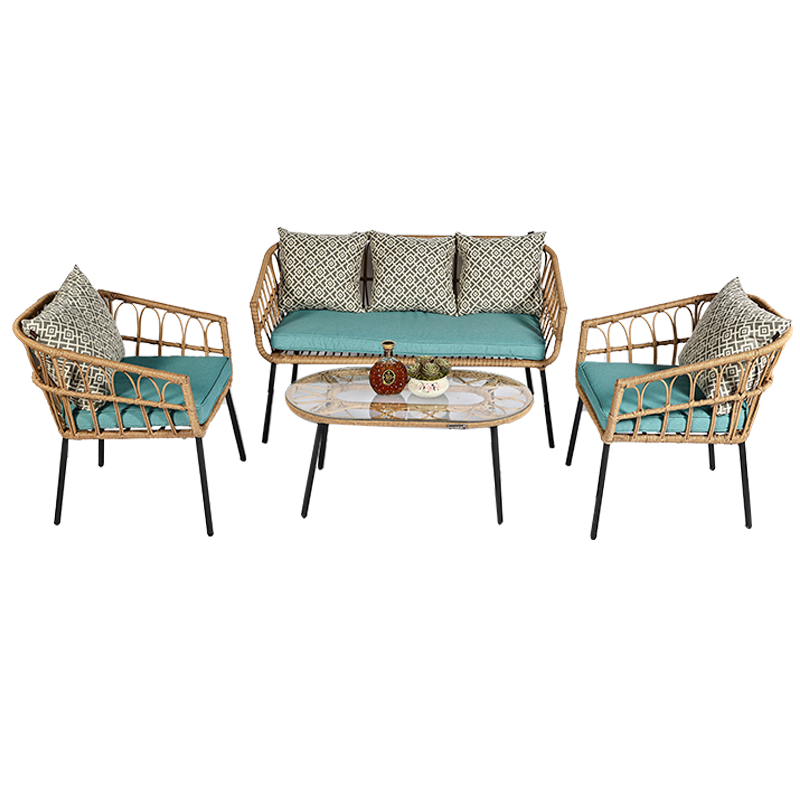 Outdoor tables and chairs sets are ideal for a variety of situations, including casual meals with friends and family. Choose a table and chairs set with a tabletop height that is appropriate for your outdoor space. You can also choose a bar-height set that elevates the table and chairs above a traditional dining table. A bar-height set allows guests to stand up at the table and has a more casual feel.
If you want to be trendy and stylish, you can opt for a contemporary outdoor dining set. This will surely enhance your kitchen and dining experience outside. This trendsetting outdoor table and chairs set can be used at home and is the perfect addition to any patio. If you love a desert look, you can also purchase matching melamine serveware for your outdoor dining set. You can even match your dining set with a matching table.