If you have a small or even a large garden, there are many different types of garden furniture sets that you can purchase. Whether you want a simple bistro set for a rooftop or a full set for a balcony, a
garden furniture set
is a great idea. One popular style of garden furniture is rattan, which has a vintage style that's always in style. However, if you'd like to avoid the maintenance of real rattan, you can choose a faux-rattan set that's weather-proof and easy to clean.
Another option for upgrading your garden furniture is to invest in a high-quality set. These types of furniture can last for many years and will help you transform your outdoor space. However, you should keep in mind that upgrading your patio furniture is not inexpensive. It's important to invest in quality and design when buying a garden furniture set.
You'll also need to consider the material that your new furniture is made from. If you choose a wooden patio set, it's best to go for something that is made of recycled materials. This type of material will also help keep your patio or balcony cool when the weather is warm. Just remember that a wooden set will probably cost a little more and require more maintenance than other materials. When choosing your new outdoor furniture set, consider how often you'll use it and whether it's worth the money.
Wooden garden furniture is available in many different types of timber. The best type for outdoor use is teak, which is highly prized due to its dense grain. It also retains high levels of natural oils when cut. This oil helps teak wood resist the effects of weathering, and it is able to develop its signature silver patina.
Aside from wood, you can also choose a natural material for your set. Many furniture manufacturers use materials that are resistant to weather. If you choose a set made of teak, you can choose from a variety of options that match your home's style and budget. Some companies also offer a free swatch, which makes it easier to make an informed decision.
Another option is wrought iron. Wrought iron garden furniture is very durable and wind-resistant, but requires routine maintenance. It needs to be treated with a wax or sealant every year to avoid rusting. Wrought iron furniture is also more expensive than other types of outdoor furniture. It's important to consider the durability of your new set, though, and make sure to plan for this maintenance.
4-piece round rattan hollow patio chairs, outdoor patio table and chairs set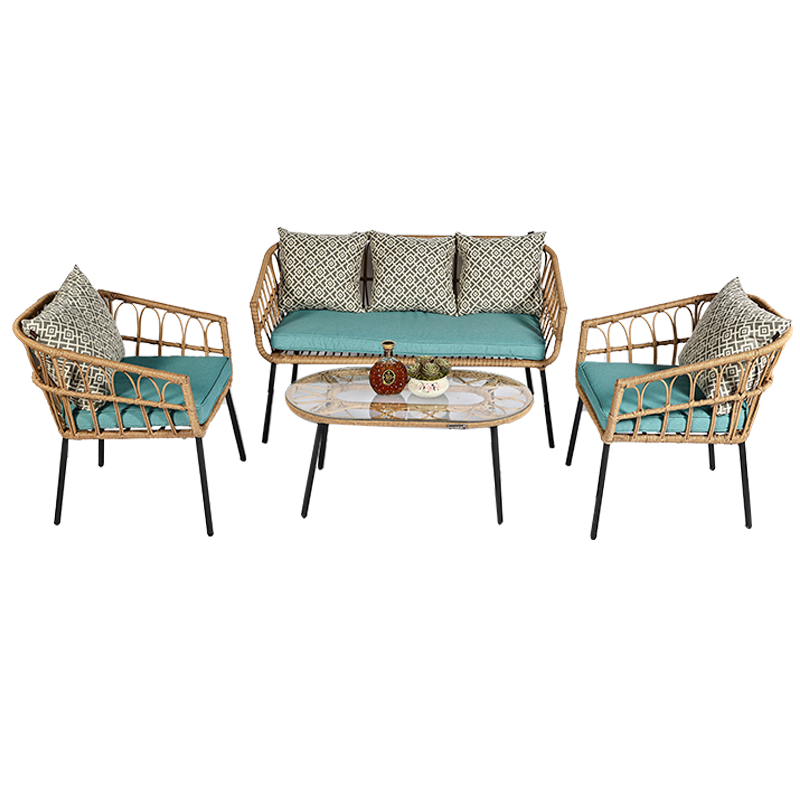 Outdoor tables and chairs sets are ideal for a variety of situations, including casual meals with friends and family. Choose a table and chairs set with a tabletop height that is appropriate for your outdoor space. You can also choose a bar-height set that elevates the table and chairs above a traditional dining table. A bar-height set allows guests to stand up at the table and has a more casual feel.
If you want to be trendy and stylish, you can opt for a contemporary outdoor dining set. This will surely enhance your kitchen and dining experience outside. This trendsetting outdoor table and chairs set can be used at home and is the perfect addition to any patio. If you love a desert look, you can also purchase matching melamine serveware for your outdoor dining set. You can even match your dining set with a matching table.