There is no one "best" material for
garden furniture
as it depends on personal preference and the specific use-case. However, some popular options for garden furniture include:
Teak: Teak is a durable and strong wood that is naturally resistant to rot, decay, and insect damage. It's also naturally resistant to water and can be left outside in any weather.
Wicker: Wicker is a popular choice for garden furniture as it is durable, lightweight, and easy to clean. Wicker furniture is often made from synthetic materials such as resin which make them more weather-resistant.
Aluminum: Aluminum furniture is lightweight, rust-resistant, and easy to maintain.
Steel: Steel furniture is strong, durable and weather-resistant.
Plastic: Plastic furniture is lightweight, easy to clean and inexpensive.
Ultimately, the best material for your garden furniture will depend on your own personal preferences and the specific use case. You should also consider the climate of the area, how much maintenance you're willing to do, and your budget. Some materials like Teak, Steel and Aluminium are heavy and can be difficult to move around, so that should be considered as well.
4PCS Lift-UP TABLE SET Rise and Fall Table Stools Set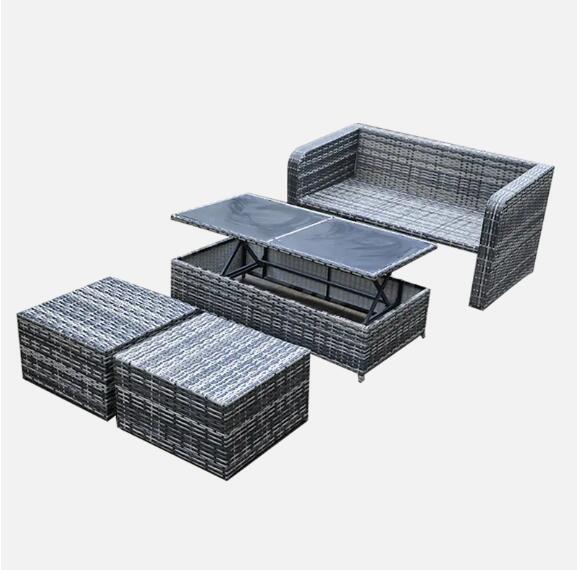 When purchasing an outdoor garden sofa set, remember that you need to consider the use of the furniture. If you're planning to entertain guests, you'll need a dining set and a sofa set. Then, if you have a small garden, a folding garden sofa set will make the furniture easier to store. The ultimate comfort and a decent look is what you'll find with an outdoor garden sofa set.