Are you looking to transform your outdoor space into a cozy and inviting retreat? Have you considered adding an outdoor sofa to your patio or garden? Outdoor sofas have gained popularity in recent years for their ability to combine comfort, style, and functionality in outdoor living areas. Let's explore why an outdoor sofa might be the perfect addition to your outdoor space.
First and foremost,
outdoor sofas
offer a comfortable seating option for enjoying the great outdoors. Whether you're hosting a backyard barbecue, lounging with a book, or simply soaking up some sun, an outdoor sofa provides a relaxed and inviting atmosphere. With plush cushions and durable upholstery, you can sink into the softness and unwind after a long day.
Furthermore, outdoor sofas come in a wide range of styles and designs, allowing you to find the perfect match for your aesthetic preferences. From sleek and modern to rustic and cozy, there is an outdoor sofa to suit every taste. You can choose from materials such as wicker, rattan, teak, or aluminum, each offering its own unique look and feel. With customizable options, you can create a personalized outdoor oasis that reflects your personality and enhances the overall ambiance of your outdoor space.
One of the significant advantages of outdoor sofas is their versatility. Unlike traditional indoor sofas, outdoor sofas are built to withstand the elements. They are typically constructed using weather-resistant materials that can withstand exposure to sunlight, rain, and other outdoor elements without fading or deteriorating. This means you can leave your outdoor sofa outside year-round, eliminating the hassle of constantly moving furniture in and out or covering it during inclement weather.
In addition to their comfort and style, outdoor sofas also provide ample seating for gatherings and socializing. Whether you're hosting a small gathering with friends or a larger family get-together, having a spacious outdoor sofa allows everyone to sit together comfortably. It creates a welcoming and communal space where conversations can flow freely, fostering a warm and inviting atmosphere for your guests.
Lastly, an outdoor sofa can extend your living space beyond the confines of your home. It provides an additional area for relaxation and entertainment, expanding the functional square footage of your property. By incorporating an outdoor sofa into your outdoor space, you can create a seamless transition from indoor to outdoor living, blurring the boundaries and maximizing your enjoyment of the natural surroundings.
In conclusion, if you're seeking to elevate your outdoor space and create a cozy and inviting atmosphere, an outdoor sofa might be the perfect addition for you. With their comfort, style, durability, and versatility, outdoor sofas offer a multitude of benefits that enhance your outdoor living experience. So why not consider adding an outdoor sofa to your patio or garden and transform your outdoor space into a haven of relaxation and enjoyment?
4PCS Lift-UP TABLE SET Rise and Fall Table Stools Set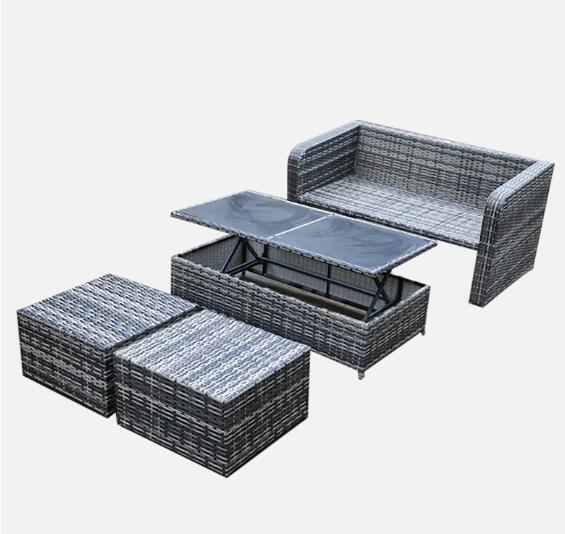 When purchasing an outdoor garden sofa set, remember that you need to consider the use of the furniture. If you're planning to entertain guests, you'll need a dining set and a sofa set. Then, if you have a small garden, a folding garden sofa set will make the furniture easier to store. The ultimate comfort and a decent look is what you'll find with an outdoor garden sofa set.