How to choose
outdoor furniture
tables and chairs? Four key points for buying outdoor furniture tables and chairs
Nowadays, with the improvement of people's living standards, more and more people like outdoor leisure life, beautiful scenery, fresh air, and proper outdoor life is good for health. In outdoor leisure, in addition to the soft grass, you also need comfortable outdoor furniture. Because of different climates and environments, the methods of choosing outdoor furniture, tables, and chairs are also different, so how to choose a suitable outdoor furniture table what about the chair
First of all, the selection of outdoor furniture tables and chairs should take into account economic factors, high practicability, and good aesthetics, and should be able to inherit the modern minimalist fashion style, especially the use of green materials. Some people like solid wood seats. What I want to say here is that solid wood tables and chairs require a lot of solid wood, which is not economical in terms of resource utilization. More importantly, the durability of outdoor wood tables and chairs is not good. Therefore, outdoor tables and chairs mostly use plastic wood, rattan, rope, and other furniture seats, such as Comfort rattan tables and chairs, leisure rope chairs, etc., which are more popular in the market today. The most important thing is that the prices of these materials are very economical, have a wide range of sources, and are currently an ideal environmental protection material, so it is mostly used in the processing and production of outdoor tables and chairs.
  Furthermore, outdoor furniture tables and chairs, like ordinary tables and chairs, must meet people's needs for relaxation in terms of size and comfort, but different from ordinary tables and chairs, outdoor family tables and chairs must not only be used for people. The function of rest should also have the function of optimizing the outdoor living environment, that is, it is decorated with other furniture to make the resting environment more comfortable. Secondly, the main function of outdoor family tables and chairs is to meet people's outdoor leisure use. Therefore, it must be able to resist all kinds of wind and sun, so there are more requirements on materials. From this point of view, we recommend outdoor rattan tables and chairs for outdoor furniture, because they are made of aluminum alloy frames combined with rattan materials, which are not only sun-proof, rain-proof, anti-corrosion, not suitable for rust, but also have a high Load-bearing capacity, usually lead the child to play tired, even if the child climbs on the table and chair to play, it will not collapse, the safety is very high, more importantly, the outdoor furniture table, chair, table, and chair is easy to clean and does not require much maintenance.
4PCS Lift-UP TABLE SET Rise and Fall Table Stools Set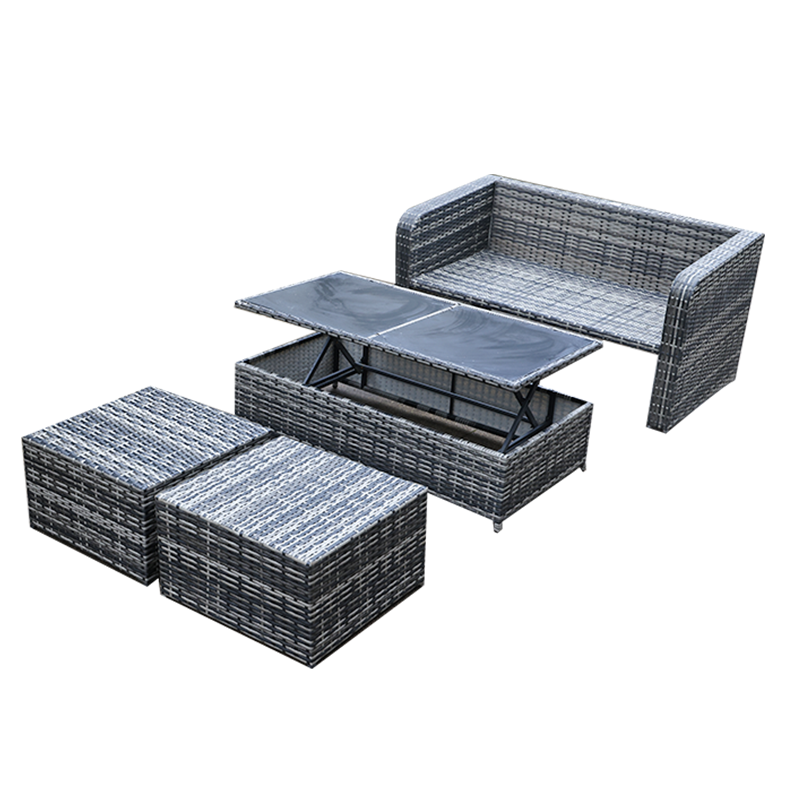 When purchasing an outdoor garden sofa set, remember that you need to consider the use of the furniture. If you're planning to entertain guests, you'll need a dining set and a sofa set. Then, if you have a small garden, a folding garden sofa set will make the furniture easier to store. The ultimate comfort and a decent look is what you'll find with an outdoor garden sofa set.